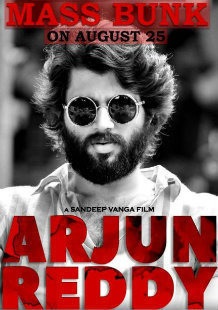 Arjun Reddy Movie Review
CAST:
Vijay Deverakonda, 
Shalini Pandey, 
Kanchana, 
Rahul Ramakrishna.  
DURATION:
3 hours 10 minutes
ARJUN REDDY STORY: A brilliant medico who's the topper of his class has anger management issues. What happens when he loses control of his life due to an unforeseen incident? Does he get a chance at redemption?
ARJUN REDDY REVIEW.
Arjun Reddy (Vijay Deverakonda) is a vintage Bullet-riding, football-playing, angry, young final year medico who believes his actions are always justified. Preeti (Shalini Pandey), a first year student, walks into his life and it is love at first sight for the protagonist.
She is a stark contrast to everything he is and at first, it seems like he bullies her into spending time with him. But time passes, love blossoms, passion roars, and nowhere does his fire lessen.