As part of the British Council's UK/India 2017 Year of Culture, the British Film Institute's National Archive has restored the Indian/ British/ German co-production Shiraz.
Shiraz is an epic silent film featuring an all-Indian cast, produced by and starring Indian cinema pioneer Himanshu Rai.
The film tells the love story of the 17th century princess Mumtaz Mahal, and the subsequent construction of the Taj Mahal in her honour.
Franz Osten's sumptuous Indian silent classic has been meticulously remastered by the conservation team at the BFI National Archive. The film tells the story behind the construction of the Taj Mahal.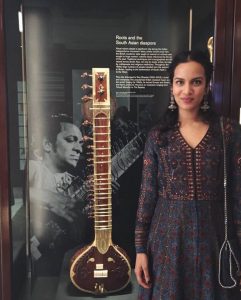 Grammy-nominated sitar player Anoushka Shankar will celebrate the majestic beauty of this film with a LIVE music score to accompany the first-ever Indian premiere of the film in Hyderabad in November, 2017. The film will tour 3 other cities in the same month.
The music score will be specially performed by Anoushka's eight-piece ensemble of players using Indian and western instruments.
The tour will be made possible with the kind support of Qadir Ali Baig Theatre Foundation in Hyderabad as part of the Qadir Ali Baig Theatre Festival 2017 and Sangit Kala Mandir in Kolkata.