Arijit Singh will perform in ten cities of India soon. It's going to start from Kolkata on 24th December's concert as part of MTV India tour"
Arijit Singh is an Indian musician, singer, composer, music producer, recordist and a music programmer. He predominantly sings in Hindi and Bengali, but has also lent his voice to various other Indian languages. 
Singh is regarded as one of the most versatile and successful singers in the History of Indian Music and Hindi Cinema.
At the start of his singing career, he received nominations for the Upcoming Male Vocalist of the Year award at the 2013 Mirchi Music Awards for renditions of "Phir Le Aya Dil" and "Duaa", winning the award for the latter. Singh received widespread recognition with the release of "Tum Hi Ho" and "Chahun Main Ya Naa" in 2013.
"Arijit Singh Live In Concert" schedule;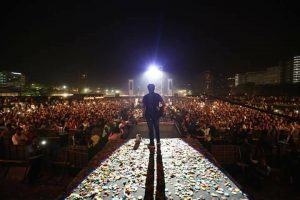 24th Dec, 2017 – Kolkata,
30th Dec, 2017 – Guwahati,
13th Jan, 2018 – Pune,
25th Jan, 2018 – Indore,
28th Jan, 2018 – Chandigarh,
03rd Feb, 2018 – Jaipur,
17th Feb, 2018 – Gurgaon,
24th Feb, 2018 – Ahmedabad,
10th Mar, 2018 – Mumbai,
17th Mar, 2018 – Hyderabad.
Book your tickets for Arijit Singh's concert  here