Annadurai is an upcoming Tamil action family drama film directed by G. Srinivasan, starring Vijay Antony in the leading role. Vijay Antony also composed music for the film and also served as the film editor for the first time in his career.
It was revealed that the film had no connection to the Tamil politician C. N. Annadurai, and that the title was merely used to garner attention amongst audiences.
Srinivasan revealed that Vijay Antony would portray twin brothers, Annadurai and Thambidurai, and the story would narrate events between 2010 and 2017.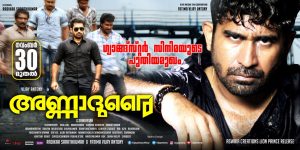 Apart from acting and working as a co-producer alongside his wife Fatima, Vijay Antony also accepted to compose the film's music and work as the film's editor for the first time in his career.
Produced by Fatima Vijay Antony and Raadhika Sarathkumar, the film began production during February 2017.