The composer and international pianist Yanni expressed his happiness and enthusiasm to revive four concerts in Saudi Arabia.
"I was invited to perform four concerts with my band, I am very excited and I am delighted to be present in Saudi Arabia during this historic period." said Yanni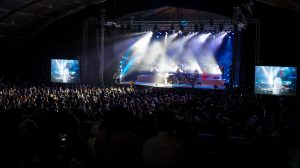 King Abdullah Economic City in Jeddah has hosted a concert on November 30 and another one in Jeddah, Further Yanni have performed two more concerts at the Riyadh Convention and Exhibition Center on December 3rd and 4th.
Yanni began playing the piano at the age of six, refusing to take any lessons in playing, and has important musical works in Hollywood movies, and became The first Western artist to play and record his music in Taj Mahal in India and the Forbidden City of China.