Umngot River – Narrow and winding roads through the foothills of eastern himalayas will take you to the abode of clouds, a pristine land of simplicity and purity. The villages here are unexploited, and the people live so close to the nature. Lavish with waterfalls and green valleys spread across for miles and miles, Meghalaya is an amazingly wholesome destination in northeast India.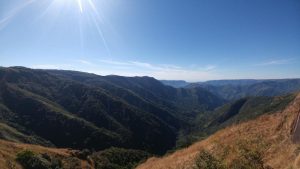 Well, if someone is in Meghalaya for the lush green hummocks, this small village located almost 90 kilometers from Shillong cannot be avoided. Dawki is an unblemished village on the border between India and Bangladesh. We were returning from Nagaland, after the great Hornbill Festival of 2017, and that is when we got an idea to explore the neighbouring state – Meghalaya.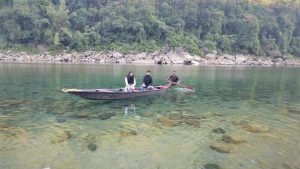 After spending three days between Shillong and Cherrapunji, we decided to hunt down the border village. As we descended towards the creative spot on the banks of River Umngot in Dawki, the fishing boats that floated on the crystal clear waters of the river seized our eyes. The boats which were painted in blue, green, yellow, and red resembled the flying butterflies over a magical fountain. The sparkling bluish water of Umngot river fringed with lush green vegetation and white sandy banks pulled us quite easily to its shoreline.
The early days of December invited cold breeze and chillness. If not the weather, we would have leapt into the depth for an underwater expedition. The sun was already over halfway long to its day's journey, but we hired a boatman to sail us over the slow-flowing Umngot. The boys, girls, men, and women in the village spend most of their time in and around the river. Some engaged in fishing, some boating, and some were bathing. Life seemed so relaxed and jovial in Dawki village.
After sailing almost 15 minutes over the glassy waters of Dawki, our boatman anchored his boat on a sandy base on the banks. A man was waiting for us to get off from the boat to approach and campaign for several entertaining adventure sports that his team offers for the guests. If interested, you can go for kayaking, canoeing, snorkeling, and camping there in Dawki, but we were bounded by the time limits. As the sun sets over the horizon, we sailed back to the creative spot from where we started off our voyage.
My interest for photography was not ending there. I decided to stroll over the sandy banks to a few more yards for capturing the darkening vista, which would help me to post a few articles on my blog columns especially – Jaunt Monkey. It was then a sharp whistle pricked our eardrums, and a military officer rushed to us. He looked at one of my feet that was already on the soil of Bangladesh and warned me about the border that we were on. Apologizing to the officer and Bangladesh, we returned with the sweetest memories of our road trip from Dawki.
How to plan a trip to Dawki?
There are conducted tours organized by Meghalaya Tourism Board, which is reasonably priced (Rs. 600.00 per person). However, if you are interested to hire a cab, it may cost you around Rs. 2,500.00 to Rs. 3,000.00.
Ejey
Jaunt Monkey | Jaunt Monkey TV.