I grew up in this beautiful town in the central part of Kerala – Kottayam; called as the land of lakes, latex and letters and blessed with the beautiful backwaters. We have abundant supply of fresh water fish from our rivers and lakes and got easy access to sea fish from Arabian sea.
We wake up to this loud hoots from our beloved fish mongers competing to sell their supply in every household (Yes, there's no long queue, its not frozen to stone, its not treated chemically.. It's a fresh catch from previous night)… I fondly remember my mum checking my dad's wish before finalising whom to seal the deal with for today.
Fish curry is a "given" in any Kottayamkaaran's meal and is embed into our culture.
We have it with our staple food of kappa or rice and almost every other main course. There's no one type of fish curry.. It's a mix and match of spices, with our without coconut, fresh or fried pastes, made tangy from mangoes, tamarinds, kokum or tomatoes, red or yellow in color.. the list goes on.
We know how to make fish curries that can be preserved in earthen pots for weeks together, which makes the fish softer and lets it soak in flavours from spices and the gravy turns exceptionally tangy. I have a vivid memory of us being treated to a month old fish curry from an earthen pot and my aunt had to scramble back her precious "chatti" from us.
My favourite fish curry has a very distinct tangy flavour and I am always marvelled by the innovation of this flavour . We have this fruit called "kokum", which has a sweet seed inside used for various reasons and is a rich source of antioxidants. I have no idea of how anyone could think of taking the outer shell of this fruit, smoke it for days together to blacken and dry it to a hard shell and preserve it.
How could one possibly think of this unique and amazing tanginess that comes out of this shell when boiled in a fish curry. This "kodampuli" dominates all other flavours and gets rid of that "fishy smell" that sometimes turns down fish lovers. It's height of innovation.. isn't it? One might argue of how the fish flavours gets masqueraded with this "puli", but honestly that's what is unique about this dish.. The gravy does not taste the same without fish in it ; and fish doesn't taste the same without dried kokum in it.
So here comes the recipe of my favourite type of fish curry – which we commonly call as "Kottayam fish curry".. It's simple and easy to prepare, but honestly many have blindly followed my instructions and recipe, but still could not attain that flavor. So probably a Kottayam touch is indeed a mandate for a Kottayam fish curry 😉
Ingredients :
Fish – Any fleshy fish cut into cubes without skin
Green chillies – 4-6 chopped as long pieces,
Shallots – 10-12 cut as big pieces,
One pod of garlic minced fine,
Ginger – 1 cube chopped fine,
Chilly powder – 2-5 spoons – make it as hot as you can tolerate,
Turmeric – ½ teaspoon,
Fenugreek powder – ½ tea spoon.
One tomato finely chopped,
3-4 kokum shells cleaned and soaked in hot water,
Mustard – 1 teaspoon,
Coconut oil and curry leaves.
Cooking ware: if you are not able to get hold of an earthen pot, try a tagine .. If that's also not an option, try any good pan with solid bottom. If you buy a new earthen pot, do look up on how to get it seasoned first before starting to cook. (Trust me – it's a good investment).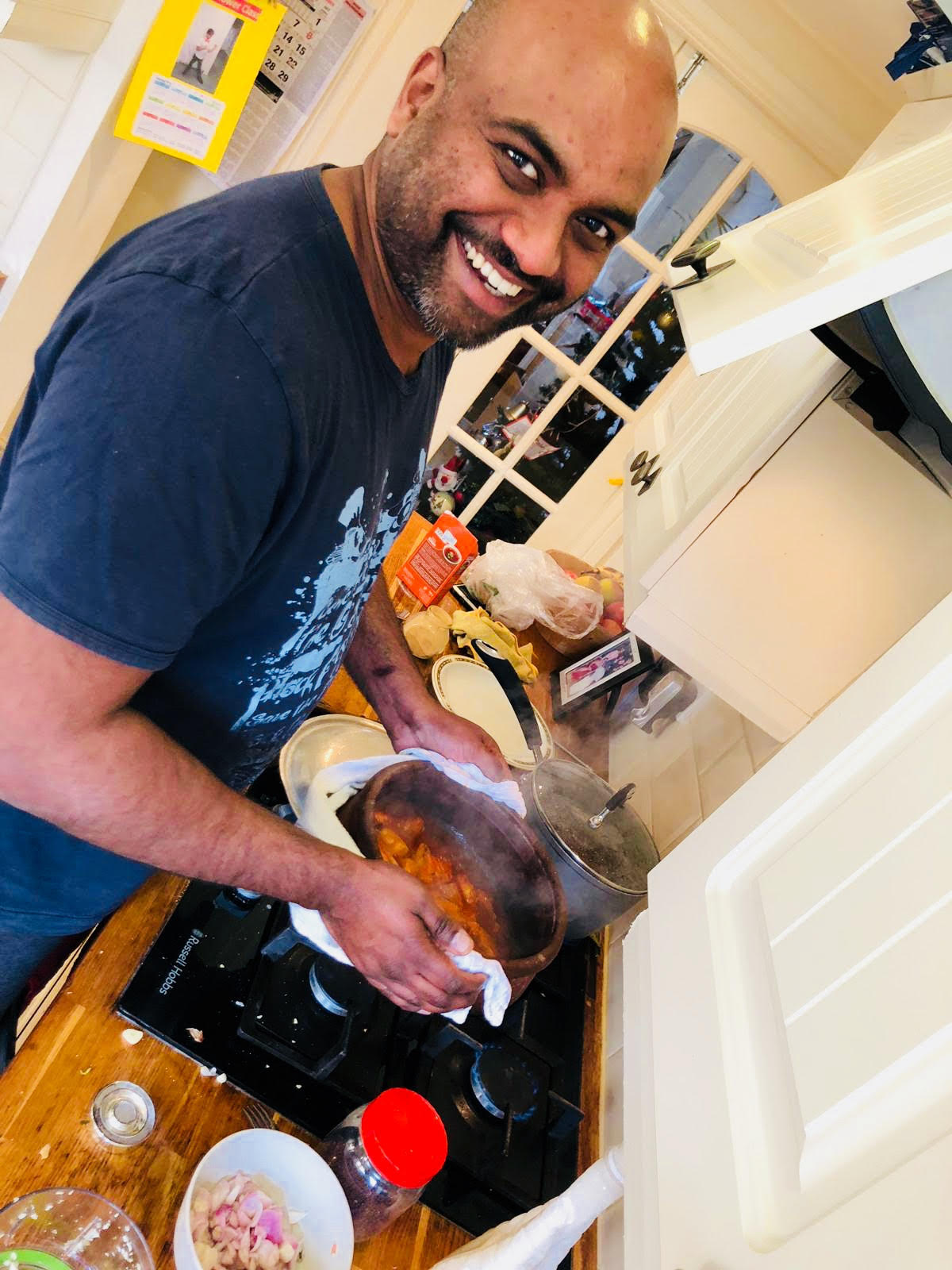 Let's do it!
Pour the 2-3 spoons of oil in the pan. Once its hot, splutter mustard seeds and curry leaves. Add ginger and garlic and saute for 2 minutes without over cooking it. (Remember to keep all spices flavoured without burning them or deep frying them, but they still needs to be cooked enough not to taste raw).
Add add shallots and green chillies, continue to saute them until they are soft and brown, add the tomatoes and keep sauting until it all becomes a creamy paste (again.. not fried, not overly cooked but a creamy paste).
Now add all the powders and saute for a minute or two (do not overly burn them either).. now add the cocum along with the water and let it boil into a thick paste.You can add more water (I'm not being pricey friends, but this is tricky indeed) to make sure you have sufficient gravy but without compromising on the thickness or diluting the flavours.
Add fish pieces, close the pot and let it cook for not more than 10-15 minutes. Do not stir with a spoon as fish pieces are cooked well now and can easily be ruined, but hold the pot with a cloth and stir it occasionally to ensure fish pieces are covered in gravy and gets uniformly cooked.
Once you feel fish is cooked enough, take the pot off the flame and toss with another spoon of coconut oil and few curry leaves. Keep it closed for at least a couple of hours to let all those flavours go into the fish. Make sure you don't miss that smell when you open the lid after a couple of hours.
Enjoy the curry with rice or cooked tapioca !!!