Velipadinte Pusthakam Movie Review – by BMK
Language-Malayalam
Cast and Crew:
Director : Lal Jose | Produced by :Antony Perumbavoor | Written by :Benny P. Nayarambalam | Music by : Shaan Rahman | Cinematography: Vishnu Sarma
Edited by : Ranjan Abraham
Cast :Mohanlal,Anoop Menon,Anna Rajan,Priyanka Nair, Siddique, Salimkumar.
The Review:
The audience couldn't be blamed if they expect a classic gem movie when the versatile director Lal Jose and acting maestro Mohan Lal teams up for the first time in a commercial movie… During this festive season,this much awaited combination of Lal Jose-Mohan Lal presented a feature film titled "Velipadinte Pusthakam" to the malayalee audience as their Onam gift….. But all the curiosity, exitement and attraction about this team and the movie ends in a rather disastrous way as we sit and goes through a tedious two and a half hours of boredom and confusions..
Here is the detailed analysis and review of this movie.
1.Direction:
Lal Jose is known to malayee film audience as a very talented craftsman.He has given some amazing commercial blockbusters which was appreciated both critically as well as commercially……. But his directorial graph is touching an all time low scale when it comes to his new flick "Velipadinte Pusthakam"…Adopting a conventional pattern for the narration is not a fault…. but conceiving a commercial movie (that too with Megastar Mohan Lal in the lead) in a very amateurish way is a crime…. It is just insulting the viewers who has spend their valuable time and money for watching this movie in the screens. It is evident from the scenes and sequences that the movie is made without much preparations or planning…. The intend must be the channel rights or the initial collections because of the festive season….
2 .Story, Screeen play and Dialogues..
The less said about the story the better….. Infact there is nothing in this movie to be called as the story….. It is definitely Benny. P. Nayarambalams script, which is the weekest link in "Velipadinte Pusthakam"….His script and screenplay is not at all convincing and in many portions including the climax is disturbingly confusing…
3.Music and Background score..
The one or probably the only one plus point of this movie is the peppy song "Jimmikky Kammal"…It creates waves in the screen and the song is an instant hit…. How ever the choreography for this song is just average…… There are few other songs in the movie, but doesn't create any impact ,thanks to the poor screenplay…..
The BGM is fine, but not great…
4.Cinematography and Editing.
Vishnu sharma's Cinematography is good and aptly suits to the mood of the movie…. Editing is fine, but a lit more crisp trimming would have helped the movie to be more effective than the present version..
5.Performance:
What prompted Mohanlal to accept and do a three get up role in this movie is a millon dollar question…..??Even his acting skills, charisma or screen presence could not salvage this insane movie… His characterisation is not at all convincing specially the psycological twist… His act in the climax closely resembles the well acknowledged climax scence of "Kireedam"
Salim Kumar repeats all his trade mark mannerisms one after the other… but many a times his act gets the shape of mere buffoonery… The director has miserably copied one of the classic sequence(Innocent making mistakes in dialogue delivery during a fim shoot) from the movie "Azhakiya Ravanan" replacing Innocent with Salimkumar…
One word about the lead actress Anna Rajan… She makes a complete mess of her character and her emoting skills is far below average…. She needs to go a long way as far as natural acting is concerned.. Her casting is another big let down of this movie…. Also some of the new faces that plays the roles of college students is pretty amateurish and makes no impression what so ever….
Siddique, Chemban Vinod Jose, Alancier and PriyankaNair has done justice to their roles.. Anoop Menon has nothing much to do in this movie and he ends up as just a poster material…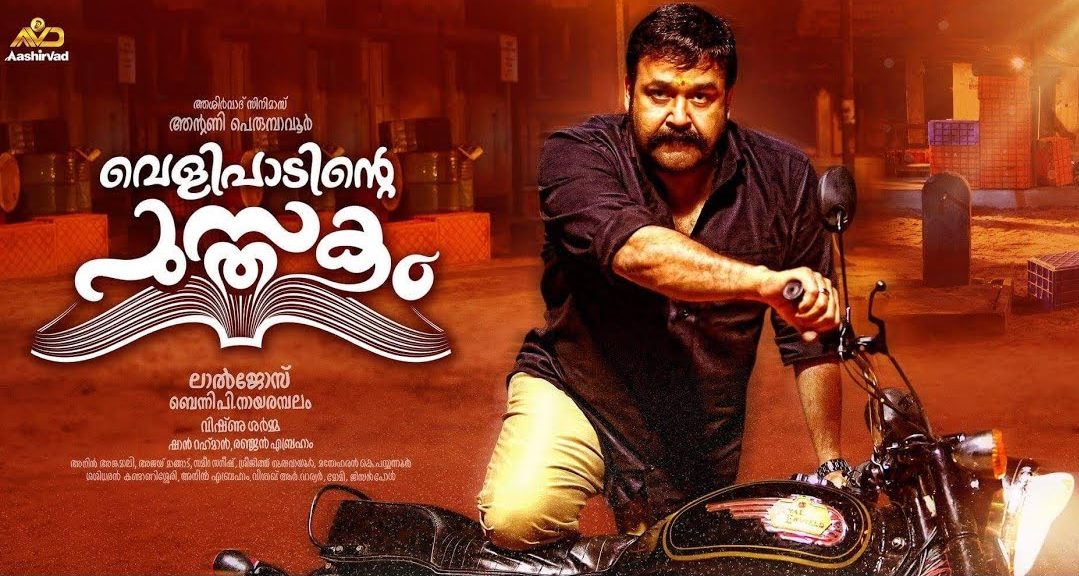 Conclusion :
"Velipadinte Pusthakam" suffers mainly due to poor screenplay and unconvincing story…. The conventional cliched uninteresting narration coupled with ameturish performances gives the viewers , a two and a half hours of boring unentertaining cinematic experience.
Verdict:Terribly disappointing …
Rating:2/5
Review by:B.M.K | 07.09.2017