Mohanlal has joined the sets of the film Kayamkulam Kochunni, in which he essays a prominent character, that of a legendary robber named Ithikkara Pakki.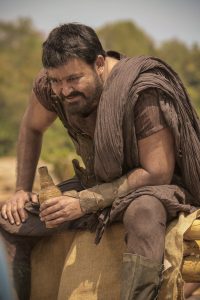 The script writer of the film, Sanjay, says that the actor will have a lot of action sequences, thanks to how Pakki operated. "Ithikkara was a place in the erstwhile Travancore and he was named Pakki by the local people. He flitted from one place to the other like a butterfly, and so catching him was never easy. 'To see whether Pakki is coming, look at the trees' they used to say.
We would like to call him a borderline fantasy character, and there is a lot of mystery associated with him. There is a lot of materials available about Kochunni, but there is hardly anything about Pakki," Sanjay says, adding, "He makes an appearance at a particular juncture in the story and has around 40 minutes' screen time."
Mohanlal was instantly interested as the crew narrated the part to him, Sanjay recalls. "We wished for someone of his stature to play this character. Pakki is Kochunni's contemporary and predecessor. It's Pakki who started the unique style of robbing and that's what Kochunni continued with," he explains.
Pakki's characterisation will require time-consuming costume and make-up, according to him. "We have given him a special look, taking into account the styles of the time," Sanjay adds.